June, 2013
now browsing by month
We have got two sponsorships to hold the seminar on the Nine Cardinal Building Blocks framework. Whether you're already a leader or a prospective leader in the DC Metro area, we have arranged for you a half-day seminar.
The theme is: "Developing the Nine Cardinal Building Blocks for Continued Success in Leadership". This seminar is very relevant for both prospective, novice, and seasoned leaders. There will be both large and small group discussions, and Q&A sessions. There will also be a coffee break.
We need your confirmation ahead of time because we should know how many workbooks we should print and bind.
I. Daniel Leadership Institute (Jesus House DC)
Place: 919 Philadelphia Ave. Silver Spring, MD 20910 (Enoch Adeboye Hall (basement of the main building)).
Date: July 06, 2013. Registration starts @ 8: 30 AM, and the seminar begins sharp at 9: 00 AM.
Contact Person to confirm your coming:
Assegid Habtewold (Facilitator) at 703-895-4551
II. Mission For All Nations International Church
Place: 501 Sligo Ave. Silver Spring, MD 20910
Date: July 13, 2013. Registration starts @ 1 PM, and the seminar begins sharp at 1: 30 PM.
Contact Persons to confirm your coming:
1. Pastor Solomon Getachew (Host): 301-437-8658
2. Pastor Wesen Asefa (Coordinator): 443-535-5924 
3. Assegid Habtewold (Facilitator): 703-895-4551
Please confirm your coming by contacting the Co-ordinator- Pastor Wesen Asefa @ 443535-5924
Entrance fee: Free (However, the seminar worths 150/person)
To know details about the seminar such as who should attend, what to expect, benefits, and more, visit this link: 
http://assegid.org/?p=295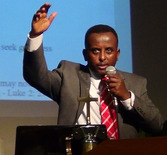 The sermon on May 12 2013 was entitled "Called to Greatness". As you know, God created man to be great (to rule, dominate, and govern). Nonetheless, man separated from God and lost its greatness, and lived in darkness for a very long period of time. Even in that dark age that separated man from God, God called individuals like Abraham, David, and many more underdogs to greatness. They were obscure among their communities but God called them to greatness.
However, the call to greatness offered to the whole humanity when God (His Son) transcended from eternity to time and restored back humanity to greatness (our former glory before fall). Jesus transformed fishers of fishes into fishers of men (women). He called them from obscurity to greatness: They became change agents, and turned the world upside down. Jesus also promised to any one who believes in Him (The Way, the Truth, and the Life) to become great, and even do greater things than He did while He was on earth.
Nonetheless, there is a part we should play to claim, pursue, and fulfill our greatness. We should also learn the ten lessons from those who lived a great life.Knowing that this theme is unpopular, and the opposite of what many Christians have heard on weekly basis (What is common is making congregations cry or feel inferior, condemn, and sorry for themselves), 
the first thing I did was demystifying the six misunderstanding about greatness
. I heard many sermons and also engaged in conversations with well-intentioned religious leaders who quote what John the Baptist said ("He must become GREAT; I must become LESS"- John 3: 30) and argue that we should refrain from aspiring to do GREAT things. They encourage a passive lifestyle. 
But, we know that John wasn't implying that we Christians put ourselves under a bowl
. It is in contrary to what Jesus preached in Matthew 5: 13 – 16. He said, "…let your light shine before others, that they may see your good deeds and glorify your Father in heaven". John was talking about the transfer of duty. He was not denouncing his Great contributions before Jesus showed up. In relay, every runner should perform GREAT in order the team to win.Another abused scripture is 1Corinthians 1: 27- "But God chose the foolish things of the world to shame the wise; God chose the weak things of the world to shame the strong".
This statement from the GREAT apostle is taken out of context
. Even if God chose the foolish things and the weak,
His end goal was to make them GREAT
. No single person in our history who truly came in contact with the Most High (
the GREAT ONE
) remained the same. You and me aren't exceptional. We are called to greatness! The more we become GREAT, the more we can serve greatly. The more our contributions are GREAT, the more glory we bring to God and His Kingdom.
Let me stop preaching you here and share with you the outline, the excerpt video in English, and also the full video for those who understand both Amharic & English.
Below is the outline of the teaching:
Demystifying the six misunderstanding about greatness
      Myth 1: Greatness is associated with outward appearances
      Myth 2: Greatness is absolute
      Myth 3: God prefers to hang out with the little ones
      Myth 4: Everybody cannot be great
      Myth 5: Greatness and service are mutually exclusive
      Myth 6: It is too early/too late for me to claim my greatness
God's desire is to make each and every one of us great
Stories of those who were transformed from being underdogs to greatness
Things that can sabotage our greatness
The lessons we learn from those who lived a great life
Conclusion (things we should do to claim, pursue, and fulfill our greatness)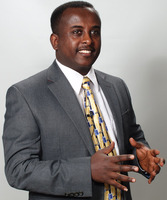 The scene was gorgeous as we drove through I- 95 Saturday early morning on May 11, 2013. We were four and from Silver Spring so the change of scene and the hope to spend the weekend in this historic city kept our spirit up. We safely reached Philly around 10 AM.
My first task was to train the leadership of an Ethiopian church in Philly. The topics were:
1. The Power of Values: The art of leading values-centered team
2. Communicate Effectively to Transcend Communication Barriers
3. Mastering Teamwork: Unleash the Untapped Potential of Your Team
4. Character: The cornerstone of your leadership
I have met some church leaders who are skeptic about opening their leadership to such leadership development programs listed above. I completely understand their concerns and they may be legitimate. However, they should know that the leadership development programs I personally design for church leadership are carefully chosen and well designed. They are very relevant. Let me just give you some tips to show you the relevance of, for instance, The Power of Values topic.
It has been learned that some churches don't have core values on their website at all. Many of those who have, copied and pasted their values from somewhere or adopted them without passing through the proper process of discovering and forming core values. Very few churches do have shared values
Remember, Jesus had values that were so powerful that they have been influencing billions for more than 2000 years. He adopted values such as love, compassion, forgiveness, service, and so on. He chose them very carefully, and some of them were counter-cultural. Not only that, He imparted His values to His disciples, showed unwavering commitment, and continually aligned His disciples along these shared values. I don't have space to discuss details about how Jesus was a values-based leader. I am working on a book, and you will get details when the book is published within a couple of months. Stay tuned!
Coming back to churches and values, it is important to know that, whether they are recognized or not, there are values that are leading your church behind the scene. Look at those very successful churches, and you will learn that they have great shared values owned and respected by key players. Likewise, look at churches with troubles, and you will quickly learn that the troubles are, in most cases, the direct result of values-conflict among key stakeholders.
Therefore, the training on values aimed at showing the leadership of New Life Church the power of values, the importance of identifying values that define their church, transforming these values into shared values, how to communicate the shared values & impart key players, align all stakeholders along the shared values, and how to assess and monitor the effectiveness of these values, and more.
Here is an excerpt video in English: http://www.youtube.com/watch?v=kkACii2yqlY
Note: Those of you who understand Amharic, you may watch just one of the training topics- The Power of Values from AHM YouTube Channel: http://www.youtube.com/watch?v=AS-YaeAds6Q